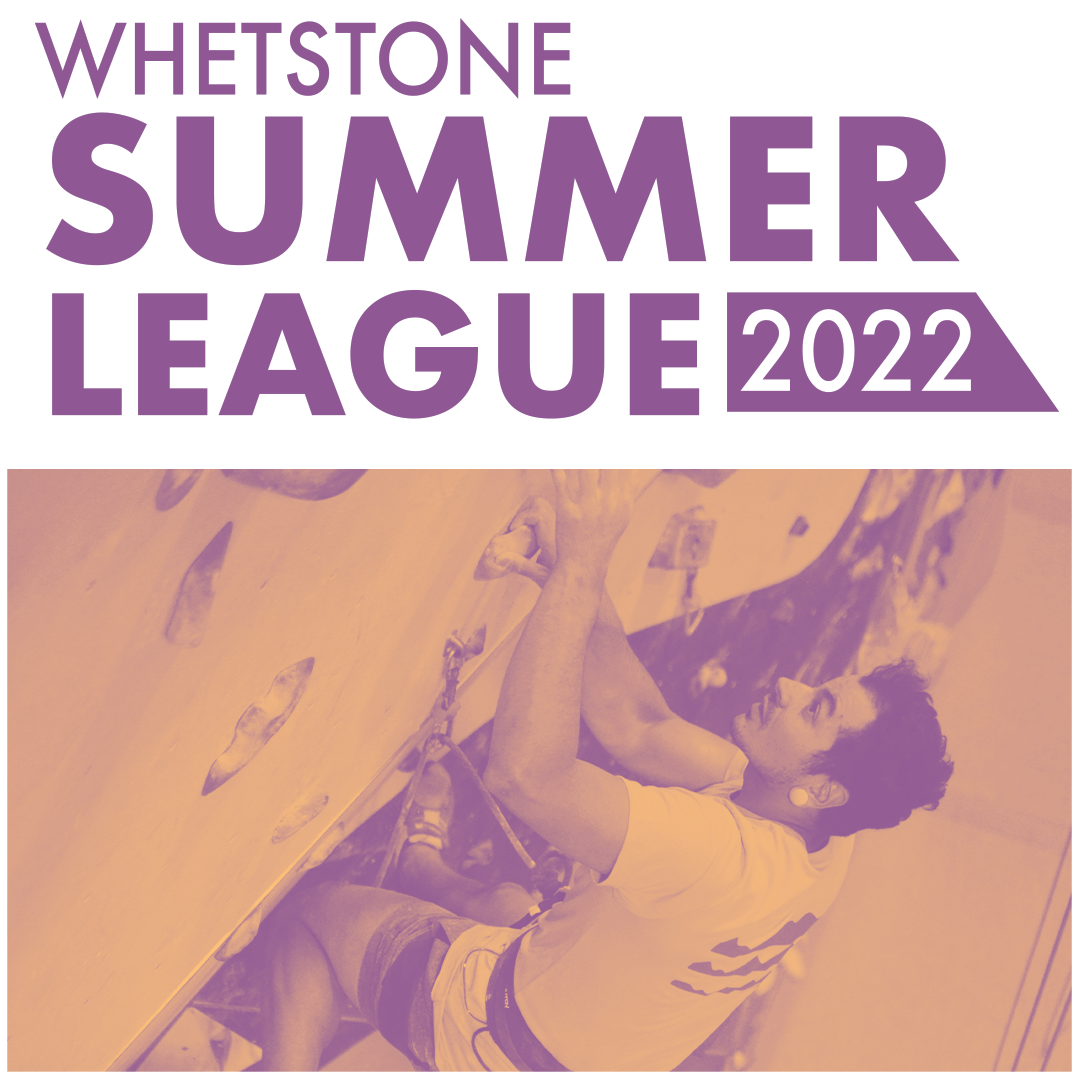 Summer League 2022
Put your skills to the test against the rest of the Whetstone community and sign up for Summer League! We're doing things a little differently this year by hosting both rope and boulder competition categories. League night will happen each Wednesday at 6:00 pm and we'll alternate between ropes and boulders each week so you can compete in both!
Summer leagues are for everyone from beginners to experts. We'll create evenly balanced teams after the first night's session.
Ages 16+
$30: Members (EFT, Annual Prepaid, and Summer Pass holders)
$40: Non-members
Additional $25 to sign up for both!
League registration closes 6/22
All participants get a Whetstone Summer League t-shirt or tank top!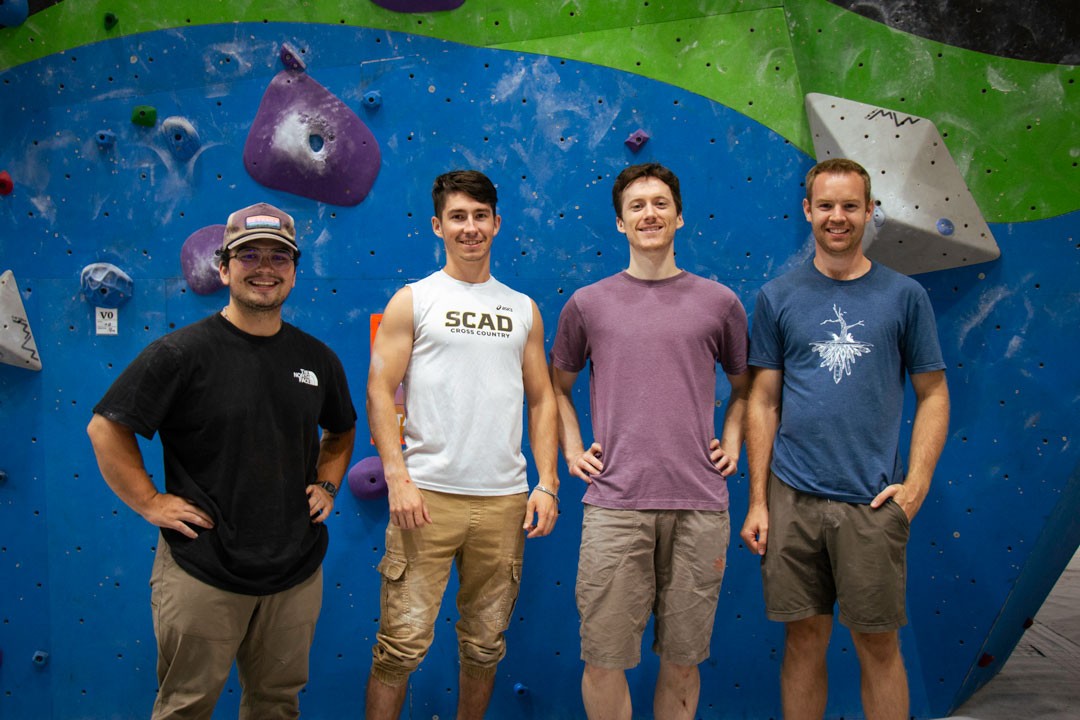 Bouldering League Camps
Team 1
Chance Hilburn
Tim Heron
Zach Derocher
Ben Jorgenson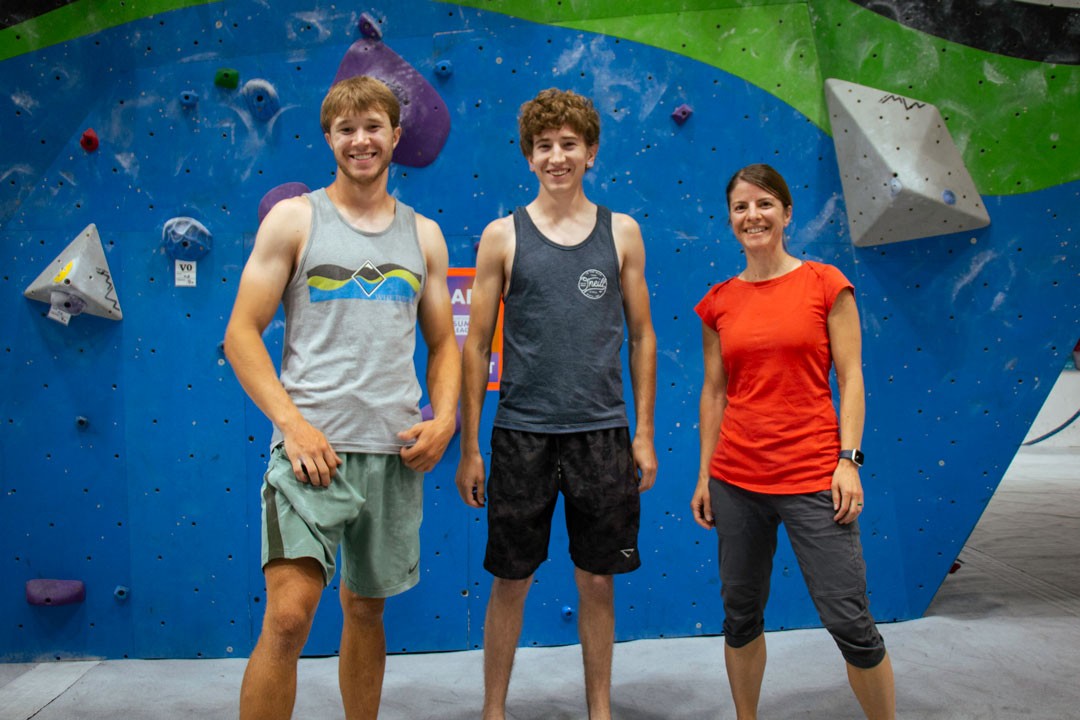 Rope League Champs
Hang Dogs
Gage Juergensen
Liam Whitacre
Michelle Powers
Zach Smith
Bouldering League Team Results
Team 1
Tim Heron
Zach Derocher
Ben Jorgenson
Chance Hilburn
Total: 43154
Georgia Pinches
Taylor Marante
Kailey Schupe
Emily Fischer
Sam Reed
Total: 40950
Crunk Squirrels
Adam Scheer
Malia Skidmore
Connor Pettine
Alex Fesenmeyer
Total: 39022.5
Easy Peasey
Gage Juergensen
Melissa Schnee
Spencer Myrlie
Ben Hartman
Total: 38297
Punting Pierogis
Adrian Zdrobis
Mallory Johnson
Tony Pierdzioch
Mariah Bradford
Total: 36846
Fingering It Out
Lucy Lu
Travis Schroeder
Jackson Mooney
Julia Hally
Total: 35353
Hawaiian T-Rex
Jeremy Smith
Aldon Myrlie
Kevin Kolodziej
Brian Brooks
Total: 34751
Drop Knees, Not Bombs
Ryan Hunt
Alex Karduna
Asepha Shaeffer
Caitlyn Mudroch
Total: 34177
Brushin' & Crushin'
Will Gieser
Ray Soto
Natasha Herbenson
Kayla Jorgenson
Total: 32001
Bouldering League Individual Results
| NAME | WEEK 1 | WEEK 2 | WEEK 3 | FINALS | TOTAL |
| --- | --- | --- | --- | --- | --- |
| Adam Scheer | 0 | 8530 | 9020 | 207 | 17757 |
| Adrian Zdrobis | 8030 | 0 | 8530 | 436.5 | 16996.5 |
| Gage Juergensen | 0 | 8020 | 8520 | 207 | 16747 |
| Tim Heron | 8020 | 0 | 8220 | 207 | 16447 |
| Jeremy Smith | 0 | 7430 | 8030 | 207 | 15667 |
| Taylor Marante | 7620 | 6210 | 0 | 0 | 13830 |
| Emily Fischer | 4130 | 4720 | 4140 | 0 | 12990 |
| Zach Derocher | 0 | 6110 | 6500 | 72 | 12682 |
| Will Gieser | 7510 | 0 | 5030 | 0 | 12540 |
| Ryan Hunt | 6010 | 6110 | 0 | 207 | 12327 |
| Lucy Lu | 6230 | 5530 | 0 | 0 | 11760 |
| Kailey Schupe | 5810 | 5630 | 0 | 0 | 11440 |
| Travis Schroeder | 4630 | 5620 | 0 | 0 | 10250 |
| Aldon Myrlie | 0 | 5040 | 5010 | 0 | 10050 |
| Ray Soto | 5040 | 4930 | 0 | 0 | 9970 |
| Alex Karduna | 5040 | 4820 | 0 | 0 | 9860 |
| Malia Skidmore | 5030 | 4730 | 0 | 48 | 9808 |
| Jackson Mooney | 3840 | 5310 | 0 | 63 | 9213 |
| Ben Jorgenson | 0 | 4130 | 4520 | 168 | 8818 |
| Melissa Schnee | 4330 | 3840 | 0 | 0 | 8170 |
| Natasha Herbenson | 4050 | 3940 | 0 | 161 | 8151 |
| Tony Pierdzioch | 4010 | 3830 | 0 | 73.5 | 7913.5 |
| Mallory Johnson | 4350 | 0 | 3430 | 76 | 7856 |
| Asepha Shaeffer | 4040 | 3740 | 0 | 70 | 7850 |
| Spencer Myrlie | 4050 | 0 | 3720 | 0 | 7770 |
| Connor Pettine | 4030 | 3330 | 0 | 73.5 | 7433.5 |
| Kevin Kolodziej | 3930 | 2910 | 0 | 77 | 6917 |
| Ben Hartman | 3020 | 2520 | 0 | 70 | 5610 |
| Chance Hilburn | 0 | 3020 | 2130 | 57 | 5207 |
| Caitlyn Mudroch | 2040 | 2040 | 0 | 60 | 4140 |
| Kristine Lindell | 0 | 4130 | 0 | 0 | 4130 |
| Mariah Bradford | 1530 | 1520 | 1030 | 0 | 4080 |
| Alex Fesenmeyer | 1840 | 2040 | 0 | 144 | 4024 |
| Sam Reed | 0 | 1610 | 1020 | 60 | 2690 |
| Brian Brooks | 0 | 1030 | 1030 | 57 | 2117 |
| Kayla Jorgenson | 620 | 0 | 720 | 0 | 1340 |
Hang Dogs
Liam Whitacre
Michelle Powers
Zach Smith
Gage Juergensen
Team Average: 4532.9
Rock Goblins
Chet Dywan
Mick Viehmeyer
Kevin Kolodziej
Julie Nelson
Team Average: 3711.5
WWJC
Jesus Urzua
Uriah Nevins
Agelica Cardez-Rivera
Sam Stollman
Team Average: 3692.2
Petzl & Pretzel
Taylor Marante
Irina Sergeeva
Darren Nelson
Ben Sawyer
Team Average: 3522.3
GD Kyle
Kyle Brackman
Alejandra Andrade
Asepha Shaeffer
Anthony Carrancejie
Team Average: 3433.8
Fantastic 4
Mike Orth
Nathan Smith
Tony Pierdzioch
Curt Ketner
Naomi Gertschitz
Team Average: 3288.1
Dy-nope
Madison Morales
Meg Kates
Tyler Geddes
Brian Brooks
Team Average: 3168.3
Crimpin' Aint Eazy
Jack Forman
Jesse Powers
Spencer Myrlie
Caitlyn Mudroch
Team Average: 2899.4
Team 8
Will Gieser
Connor Pettine
Jackson Mooney
Daniel Wright
Team Average: 2809.8
Rope League Individual Results
| NAME | WEEK 1 | WEEK 2 | WEEK 3 | FINALS | TOTAL |
| --- | --- | --- | --- | --- | --- |
| Nathan Smith | 0 | 2120 | 2710 | 667.4 | 5497.4 |
| Liam Whitacre | 2130 | 0 | 2710 | 586.8 | 5426.8 |
| Chet Dywan | 0 | 2120 | 2440 | 586.8 | 5146.8 |
| Gage Juergensen | 0 | 2120 | 2710 | 82.8 | 4912.8 |
| Jesus Urzua | 1840 | 0 | 2240 | 733.4 | 4813.4 |
| Taylor Marante | 1920 | 0 | 2720 | 0 | 4640 |
| Kyle Brackman | 1920 | 0 | 2210 | 442.8 | 4572.8 |
| Michelle Powers | 1830 | 0 | 2420 | 169 | 4419 |
| Darren Nelson | 1510 | 940 | 1820 | 0 | 4270 |
| Uriah Nevins | 1830 | 0 | 1860 | 484 | 4174 |
| Madison Morales | 1850 | 0 | 1840 | 442.8 | 4132.8 |
| Jesse Powers | 1830 | 0 | 2130 | 169 | 4129 |
| Jack Forman | 2740 | 0 | 0 | 1191.6 | 3931.6 |
| Mick Viehmeyer | 1830 | 0 | 1840 | 169 | 3839 |
| Irina Sergeeva | 1820 | 0 | 1830 | 169 | 3819 |
| Jackson Mooney | 0 | 1840 | 1840 | 100 | 3780 |
| Meg Kates | 1560 | 0 | 1850 | 320.9 | 3730.9 |
| Alejandra Andrade | 1540 | 0 | 1840 | 169 | 3549 |
| Tony Pierdzioch | 1560 | 0 | 1650 | 320.9 | 3530.9 |
| Connor Pettine | 1540 | 0 | 1820 | 169 | 3529 |
| Julie Nelson | 730 | 920 | 1830 | 0 | 3480 |
| Mike Orth | 1520 | 0 | 1820 | 81 | 3421 |
| Asepha Shaeffer | 1530 | 0 | 1820 | 66.4 | 3416.4 |
| Zach Smith | 1530 | 0 | 1820 | 23 | 3373 |
| Agelica Cardez-Rivera | 1530 | 0 | 1550 | 101.3 | 3181.3 |
| Tyler Geddes | 1530 | 0 | 1530 | 81 | 3141 |
| Curt Ketner | 1220 | 0 | 1510 | 11.2 | 2741.2 |
| Sam Stollman | 0 | 1030 | 1500 | 70.1 | 2600.1 |
| Will Gieser | 2130 | 420 | 0 | 0 | 2550 |
| Kevin Kolodziej | 1350 | 930 | 0 | 100 | 2380 |
| Anthony Carrancejie | 0 | 920 | 1230 | 46.9 | 2196.9 |
| Spencer Myrlie | 1220 | 630 | 0 | 0 | 1850 |
| Caitlyn Mudroch | 730 | 0 | 930 | 27 | 1687 |
| Brian Brooks | 740 | 0 | 910 | 18.5 | 1668.5 |
| Daniel Wright | 730 | 650 | 0 | 0 | 1380 |
| Ben Sawyer | 730 | 630 | 0 | 0 | 1360 |
| Naomi Gertschitz | 730 | 520 | 0 | 0 | 1250 |