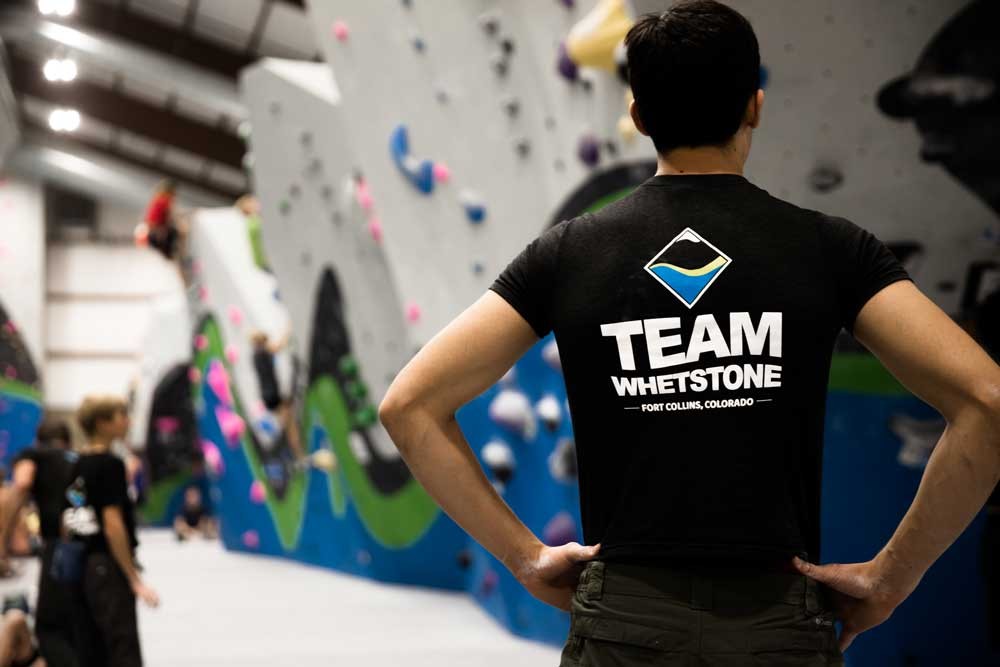 team whetstone: Building Better Climbers
We believe in our athlete's ability to grow themselves as climbers. Our mission is to build confidence, inspire passion, and create a supportive team community. We want to involve Team Whetstone as part of the Whetstone family.
Team Whetstone welcomes climbers from age 9-19 who are divided into two categories: C/D and A/B/Junior. There aren't strict performance requirements to try out, rather each child's climbing ability and mentality are assessed relative to their peers. Those who have a positive attitude and can follow a training program will be favored. Kids and teens who have a passion for climbing, want to learn more about our team, or meet the coaching staff should sign up.
COVID-19 Update: Kids in our youth programs are required to wear masks at all times. We know this isn't ideal but we feel that it's the best choice for the safety of the community until vaccinations are approved for kids.
Tryouts will consist of your child practicing with our Team and going through our regularly scheduled workouts. For Team C/D, your child should be able to climb at least V3, and for Team A/B/Jr., your child should be able to climb at least V5. Outside of ability, we welcome athletes who are enthusiastic about climbing, motivated to improve, great listeners, and receptive to coaching. Athletes will be required to practice at least twice a week; practicing three times a week is not required but recommended. Additionally, attending competitions will be encouraged but not a requirement to be a part of the team. For info please email Ken@whetstoneclimbing.com.
Should your child be selected to be on the team, here's what you can expect:
Season practice schedule
Practice is held on Monday, Wednesday, and Thursday.
C/D 4:00 p.m. – 6:00 pm
A/B/Junior 6:00 p.m. – 8:00 pm
Cost
$35 One time fee.
$199 per month, 2x per week.
$249 per month, 3x per week.
Included in cost:
Membership, plus all member benefits
10% membership discount for sibling
Gear (we recommend bringing your own shoes)