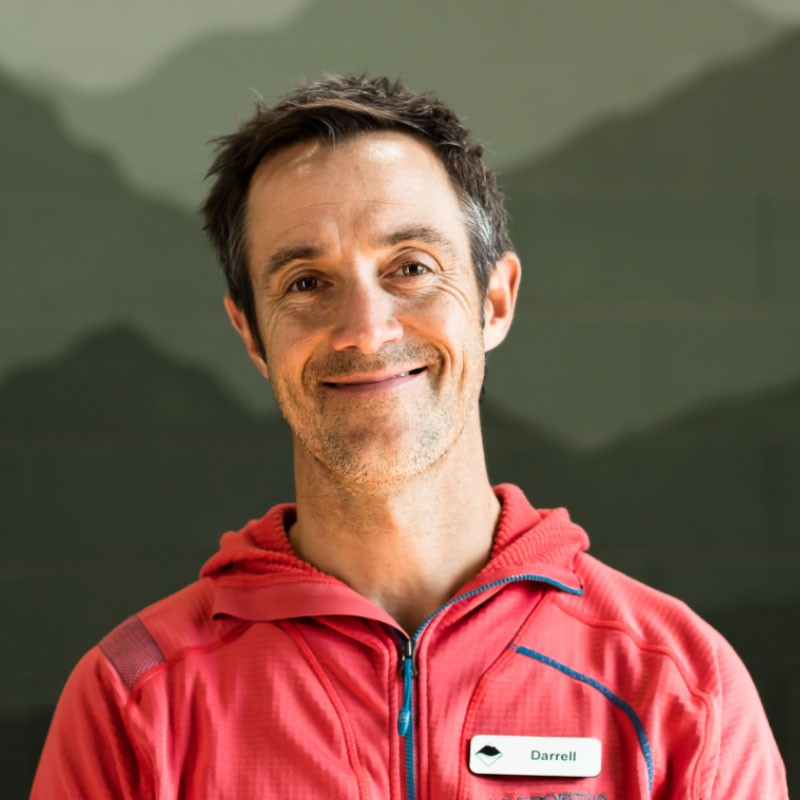 Darrell Gschwendtner
Founder / Owner
My heart has been in the climbing 'business' for nearly 25 years and with the opening of Whetstone, it has now come full circle. For me, climbing has been and is, spiritual and life-changing. So too for the many others I've met on remote cliffs on other continents. Many of us need something that represents a way, a passage through life, a discipline or philosophy to follow. I believe the mental and physical rigors of climbing offer a template for wellness and inner peace.
Once bitten, it was fast, furious and all consuming. Trial, error and the timeless pages of 'Mountaineering – Freedom of the Hills' were my teachers. Route guidebooks and the history of the sport were equally as fascinating. I spent many a night reading and practicing knots before falling asleep. I begged, borrowed and essentially stole (recruited) climbing partners when needed. My rack consisted largely of used gear from the Boulder Sports Recycler, found crag schwag and the occasional new weapon via holiday or birthday gift: a harness, shoes or rope. My traditional climbing skills were evolving, leading me into aid climbing as bigger objectives quickly popped on my radar. Aid climbing started rocky for me, having a brush with death (small refrigerator-sized block dislodged/pinned me to the ground) and a homemade port-a-ledge "product testing" fiasco (picture middle of the night equipment failure "taco" surprise). Thankful for my short-term memory, I continued to pursue and progress despite occasional setbacks/injuries. After a few years, I had success locally in places like Eldo, the South Platte and on the Diamond as well as elsewhere throughout the states with numerous multi-day big wall ascents on El Cap, Half Dome and Zion. My attention then focused on a long-term dream of climbing in Patagonia which came to fruition immediately after graduating from CU in the late 90's. It was an epic trip indeed from incredible failures and legendary storms to triumph and tragedy. After more global climbing excursions, my climbing focus shifted to and continues to be on, the disciplines of sport climbing and bouldering.
I'm now blessed to have a magnificent wife and two children who keep us busy and make us proud. Thankfully, they all enjoy climbing as well and our adventures have already been many and magical. Whetstone will certainly be an epic adventure, for which I'm fully roped up. The journey has begun, and I can't wait to connect with all of you. I welcome all comments, suggestions, questions and concerns. After all, Whetstone is for you.
Living in Colorado for over 40 years has been a tremendous good fortune and to open doors on a world class climbing facility in Ft. Collins, CO where there is such a strong adventure and climbing culture, well it's a dream come true. So, let's call Whetstone's connecting space a gift to the community, as I cannot think of a better way to pay it forward. I look forward to climbing with you!