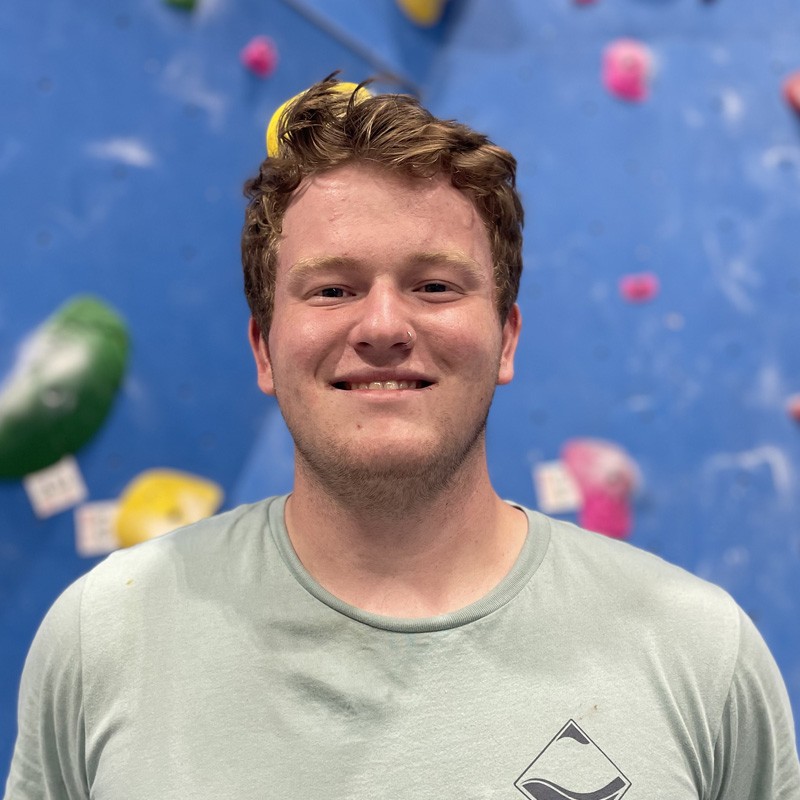 Jackson Mooney
Youth Instructor
Who are you? Where are you from? What do you do in the gym?
My name is Jackson Mooney, I am going into my senior year at CSU studying vocal music, I am from Highlands Ranch Colorado. At Whetstone, I am the Summer Camp Coordinator and when it is not summer, I am a youth/adult coach.
When not a Whetstone, where might we find you?
When I am not at Whetstone, I am typically trying to get lost on the mountain biking trails in Fort Collins or hanging out with friends at coffee shops around Fort Collins.
A favorite non-climbing activity?
A favorite non-climbing activity is fighting polar bears...but since there aren't any more polar bears in Fort Collins to fight, I really like to mountain bike, ski, play piano or guitar and sing, and just be with people!
What are you most stoked about these days?
I am pretty stoked on getting into trad climbing (shout out to any trad-parents who are looking for a protégé).
Have any projects? Climbing or Non-Climbing?
Current projects include an adaptive learning plan to be implemented at Whetstone to open up the gym to people of all ability levels. I am trying to learn how to trad climb/how to find the money to make a trad rack.
How did you get involved with the gym?
I got involved with Whetstone through some friends getting memberships and falling in love with the facility, from there, I got the opportunity to coach and haven't looked back since...except to see what is behind me.
Best thing about FoCo / NoCo
Living in a playground is the best thing about NoCo, you aren't too far from any outdoor activity that you want to do. Also the plethora of beer isn't too bad either.
What's a low-key flex you can boast about?
My coffee making ability. I have an espresso machine at home and love to make lattes and am not half bad at latte art, but also sometimes it just looks like a blob.
Favorite spot to recreate in.
I love to recreate in the Poudre. Especially because I am really good at getting lost and so approaches take way longer than they need to; but hey, more views and more cardio baby.
How does climbing foster community?
Climbing has introduced me to some of my very best friends. It is always such a chill group of people and you really can start a conversation with anyone! It is cool when people have a similar goal and get to pursue it together!
What has climbing taught you?
Climbing has taught me a lot about mental barriers and that there is a lot of things that your body can do that you don't expect. It has taught me how to bridge gaps between physical and mental strength as both are so needed in climbing.
Climbing in five words... Go!
I hate falling, be stronger
Favorite climbing style?
My favorite style of climbing is sport climbing. I love the thrill of being above the bolt and potentially taking a big fall, I also hate that whole falling part, but we're getting over it.