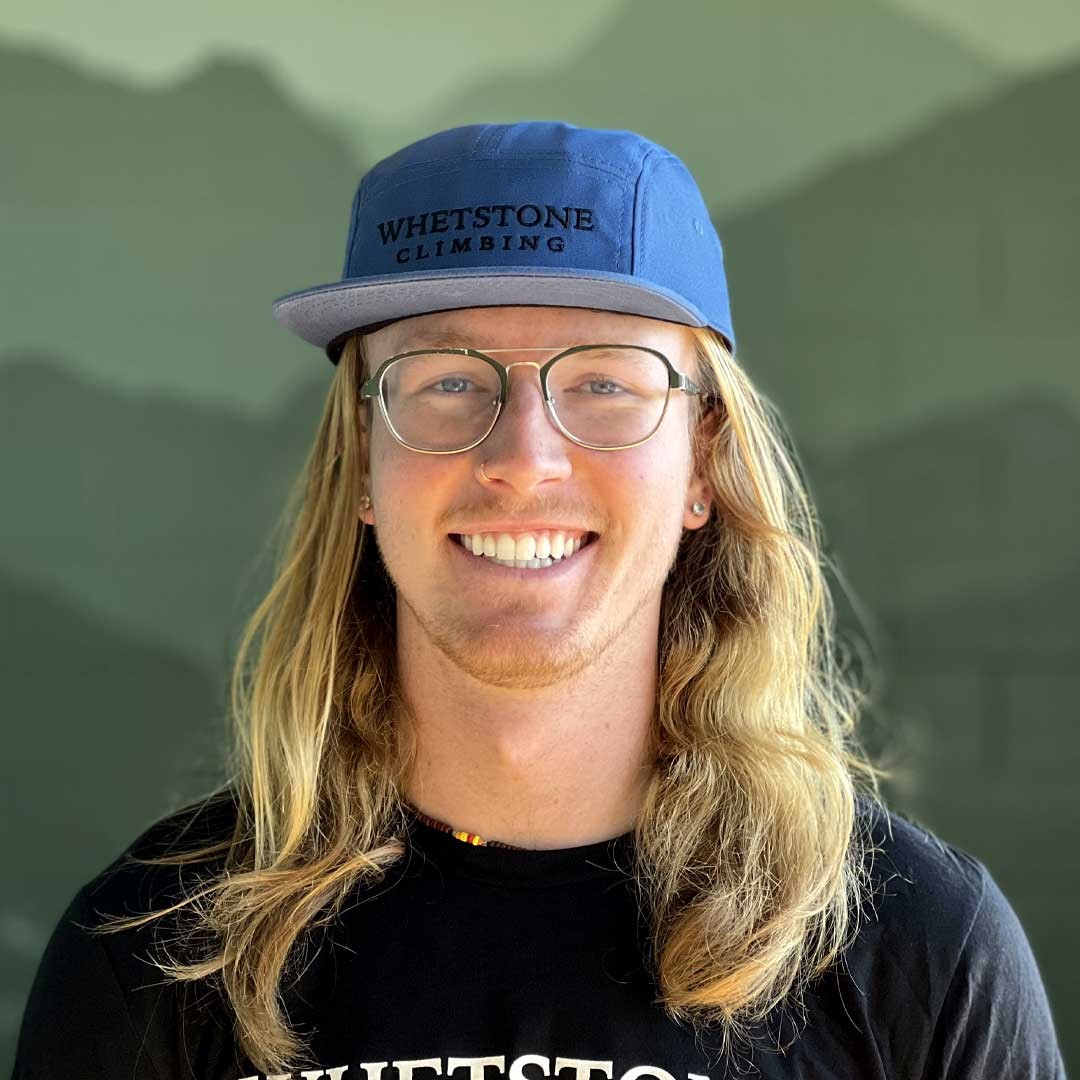 Ethan Ball
Front Desk
Who are you? Where are you from? What do you do in the gym?
I am Ethan Ball, and I am from Windsor, Colorado. I grew up here my whole life, and now I have the opportunity to not just climb in the gym, but also work here at the Front Desk!
When not a Whetstone, where might we find you?
I am either outside and/or sleeping--both of which I love!
Favorite non-climbing activity?
My favorite non-climbing activity is backpacking. I could do that forever if possible.
What are you most stoked about these days?
I am super stoked to get back into all types of climbing, and I can't wait to hit the slopes this season: ski and snowboard!
Have any projects? Climbing or Non-Climbing?
I am working on finding some new climbing projects and preparing for some long distance races coming up.
How did you get involved with the gym?
I started climbing at Whetstone January 2021 when I moved back up to the Noco area after college. It was my home away from home (I definitely showered at the gym more than at home that year).
Best thing about FoCo / NoCo?
The best parts about living in Foco are the tons of hiking/biking trails nearby, the climbing up Poudre Canyon, and the breweries in town!
What's a low-key flex you can boast about?
I hiked 4500 continuous miles between December 2021 and August 2022 through 7 of the greatest states in the US. If you see me in the gym, ask me about it. I have hours of stories!
Favorite spot to recreate in.
My favorite spot outdoors to spend time in is the Rocky Mountains. From Glacier to the Wind Rivers to the San Juans these mountains are my home.
How does climbing foster community?
Climbing fosters community by bringing together people to partake in an activity that is both physically and mentally challenging. Climbing brings out the best in many people and can act as a bridge between those from different generations, occupations, lifestyles, and more. Climbing is one of my favorite memories to share and have shared with folks I know.
What has climbing taught you?
Climbing has taught me a lot. Number one being how to fall. Falling correctly whether bouldering or rope climbing is something I am happy to have picked up quickly. Second, patience. To be better at climbing you need to keep climbing, but most people do not jump from a V3 or 5.9 straight up to a V7 or 5.12. It takes patience both mentally in your mind and physically with your body. Lastly, Climbing has taught me that no matter what you do as a hobby, the number one goal is to enjoy yourself while doing so. Climbing is a blast!
Climbing in five words... Go!
Knots, chalk, wall, pain, falling
Favorite climbing style?
Sport climbing on slab!!