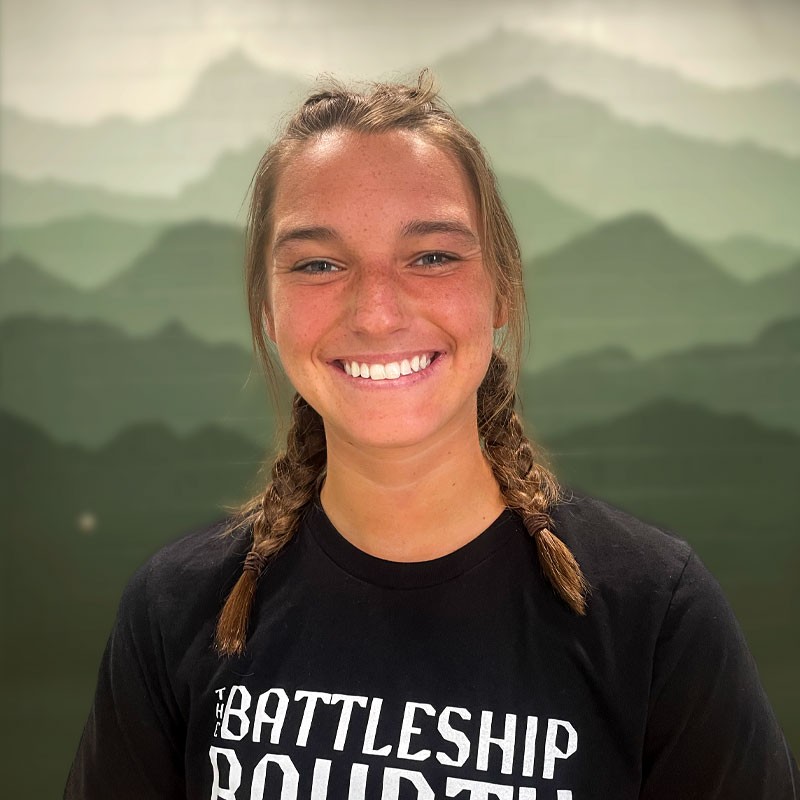 Ella Sanderson
Youth Coach
Who are you? Where are you from? What do you do in the gym?
Hiiiiii! My name is Ella Sanderson and I am from Winter Park, Colorado. I love all things outdoors, and working at whetstone I get to channel that love into coaching kids to have the same passion!
When not a Whetstone, where might we find you?
When not at whetstone you can find me face down in some engineering homework, or, the more fun option, doing cool stuff with my dog!
A favorite non-climbing activity?
My favorite non-climbing activity is probably skiing. I just recently started backcountry skiing, so I am super stoked about that.
Have any projects? Climbing or Non-Climbing?
My current non-climbing project is training my dog. He is an ornery little puppy, but pretty soon he'll be the most well behaved dog you've ever seen.
How did you get involved with the gym?
I was looking for a new climbing gym to start going to in Fort Collins, and the first time I came to Whetstone I met fellow coach, Ryan Guzinski (it was only his second time in the gym to!). He was so friendly and made me feel like I already had a community at the gym on my first day there. It is really cool that we are both coaches here now!
Best thing about FoCo / NoCo:
The best thing about FoCo is that there is something here for any type of person. We're in super close proximity to plentyyyy of outdoor activities if thats what you're into, but there's also old-town if you need a little bit of a city fix!
What's a low-key flex you can boast about?
I can do a head stand on a paddle board?
Favorite spot to recreate in.
My favorite spot to recreate is Winter Park!
How does climbing foster community?
Climbing is a sport that has the kindest group of people you'll ever meet. From the first time I stepped foot in Whetstone I was already making friends, and that community has just grown immensely since I started working here. Climbing is a place where everyone is supportive, uplifting, and incredible.
What has climbing taught you?
Climbing has taught me I am mentally and physically capable of a lot more than I think I am, if I can get out of my own way.
Favorite climbing style?
Lead sport climbing!