Learn The Ropes!
There's a few things you'll want to know to make the most of your trip to Whetstone.
Take a couple minutes to get to know our policies so you can come prepped and ready to enjoy some of the best indoor climbing in northern Colorado!
As of June 2020, we have an updated waiver. If you're new, or you haven't joined us since June, please fill out our new waiver prior to arriving to the facility.
(You can sign it when you get here too, but why not get climbing faster!)
COVID-19 Update : December 24
You may have heard about Larimer County's Level Up program for businesses; the program enables businesses that meet enhanced safety guidelines in qualifying counties to open at greater capacity. Approved businesses are able to operate and move up a level, and in our case, from Level Red to the less restrictive Level Orange capacities.
After an extensive application process and physical inspection of the safety measures of our business, we are pleased to say that we have been approved to participate in this program and our customer capacity is able to increase from 50 to 125!
The overall capacity of the gym has been increased to 100, 20% of our normal capacity of 500
At this time, we have internally decided to only be increasing our capacity to 100. This enables us to closely monitor facility usage and ease into this new capacity increase rather than all at once. If there is a demand for the increase to 125 and customer flow/spacing throughout the facility and zones is satisfactory to our management, then we will announce the further increase to 125.
This means that we will be increasing the number of climbers throughout the gym from 10 per zone to 20 per zone. If there are 20 climbers in a zone, please do not enter the area.
Reservations are still required, but are no longer be limited to members and punch pass holders!
Guests are welcome to book as well now BUT if members and punch pass holders are consistently unable to book because of this change, we'll revert back to disallowing guests to reserve in advance. Thanks for your understanding.
Thank you, Whetstone community!
We certainly could not have done this alone; it's only through the effort this community has shown to adhere to county guidelines and climb safely that we were able to achieve this huge step!!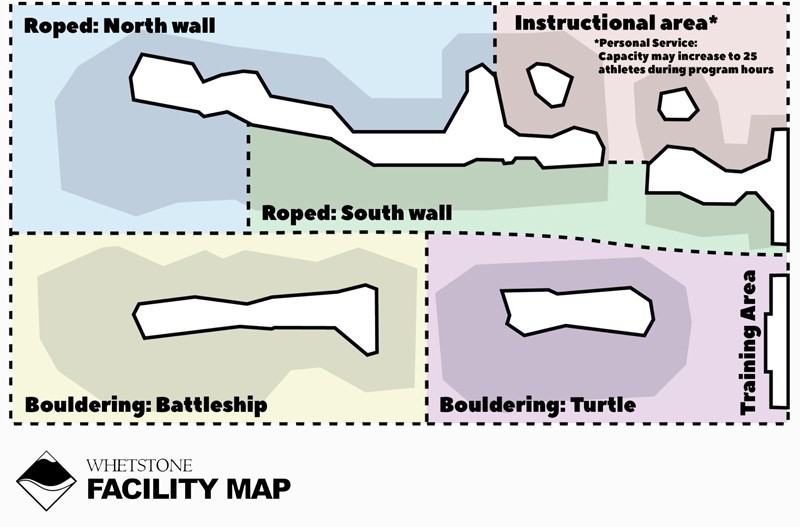 The climbing areas are broken down into six-foot social distancing zones, designated by velcro strips on the floor and signs on the wall.
Please limit each zone to no more than 20 people per zone.
Yoga classes (Limited schedule – Tuesdays and Thursdays)
Health & Safety Reminders
If you feel sick, and you are experiencing symptoms of COVID-19, or you have recently been in contact with individuals with COVID-19, please stay home.
Respect 6 feet for physical distancing guidelines and allow for appropriate space between other climbers, belayers, and staff.
Participants must wear face coverings (masks) at all times.
Please wash or sanitize your hands before starting to climb and as often as you can.
Practice proper respiratory etiquette and do not cough or sneeze without appropriately covering your nose and mouth.
Shoe, harness, and belay device rentals will be available in a limited capacity on a first come first serve basis every day and will be sanitized between uses. Lead rope rentals are currently unavailable.
Payment will be accepted only by card. NO cash.
Only 20 people are going to be allowed in the fitness room at a time. Please check how many people are currently using the room before entering
Adults classes (restart date TBD)
Youth programs (Club and Stone Monkeys – Monday, June 29th, Team restart date TBD)
Yoga classes (Limited schedule – Tuesdays and Thursdays)