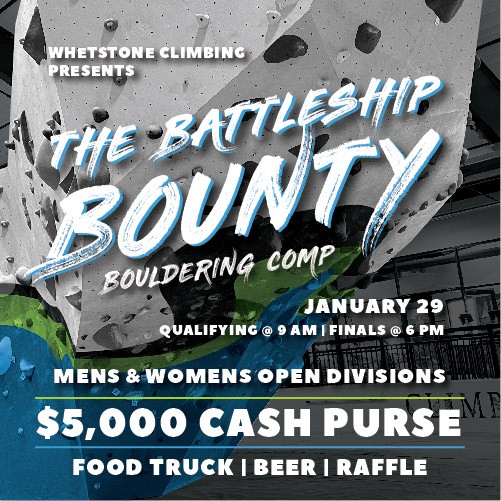 Battleship Bounty 2022
January 29, 2022
The Battleship Bounty, Whetstone's elite-level bouldering comp, is back and bigger than ever! This all-day event will kick off our third anniversary weekend and it's guaranteed to be one heck of a show. We're turning the setting team loose with over 200 brand new holds from Kilter and letting their imagination run wild. Buckle up, These boulders won't be for the faint of heart. If you crush V6 for breakfast and want to tackle double-digit problems for a piece of the $5K purse, you'll love what we have in store for you. Want to come watch the action? Come grab some food-truck grub and a frosty beverage from The Bivy (21+ of course) and check out the finals under the lights! Admission is free to everyone. You won't want to miss it.
Women's Finals
Quinn Mason | Salt Lake City, UT
Sienna Kopf | Salt Lake City, UT
Adriene Clark | Centennial, CO
Cloe Coscoy | Salt Lake City, UT
Campbell Sarinopolous | Louisville, CO
Alex Puccio | Boulder, CO
Men's Finals
Ross Fulkerson | Salt Lake City, UT
Daniel Martins | Colorado Springs, CO
Derek New | Centennial, CO
Jack Martinus | Fort Collins, CO
Christopher Cosser | Salt Lake City, UT
Max Caplan | Boulder, CO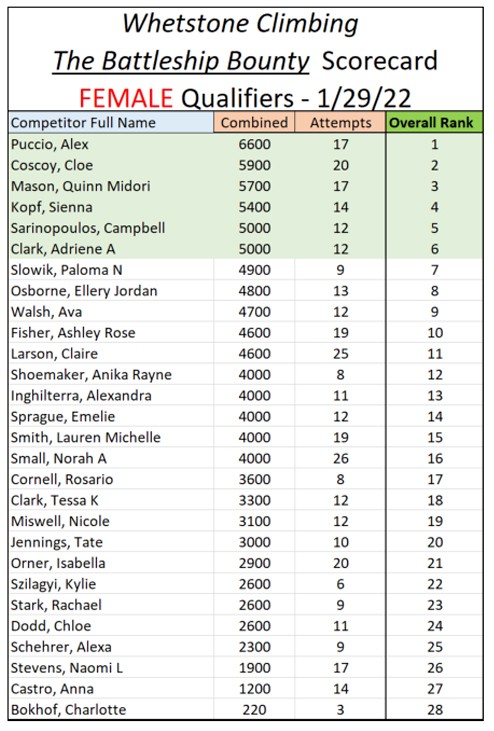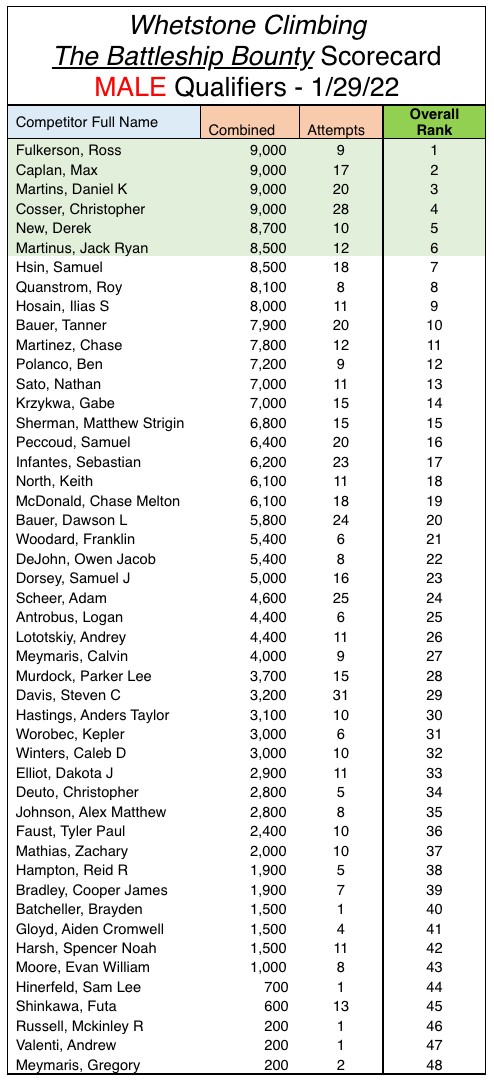 Anniversary weekend Closures
We know it's not ideal to close down portions of our climbing space, but in order to prep for the comp, certain areas of the gym will be off limits at specific times:
Monday, January 24th - Friday, January 28th: The setting team will be putting up comp problems on the Battleship. Once an area has been set for the comp, we'll hang signs and those zones will be off-limits until Sunday, January 30th.
Friday, January 28th: The west end of the lead wall will be closed from about 5:00pm until closing so we can install the lights.
Saturday, January 29: The gym will be open during the morning while qualifying round is goin' down, but we'll be closed to everyone but competitors starting at 4:30 pm. Come check out the finals!
Sunday, January 30: The gym will be open for climbing from 9:00 am - 12:00 pm during the climbing clinic, but we kindly ask that you find some space to climb that isn't in use by the participants. We'll close at noon so we can prepare for an afternoon of movies, autographs, food, beers, and live tunes.